Experience flawless material handling with our stainless-steel screw conveyors. Designed for hygiene, they effortlessly transport ingredients across any distance or incline. From customization to precision, our augers cater to your every production need. Let's elevate your process plant production to new heights!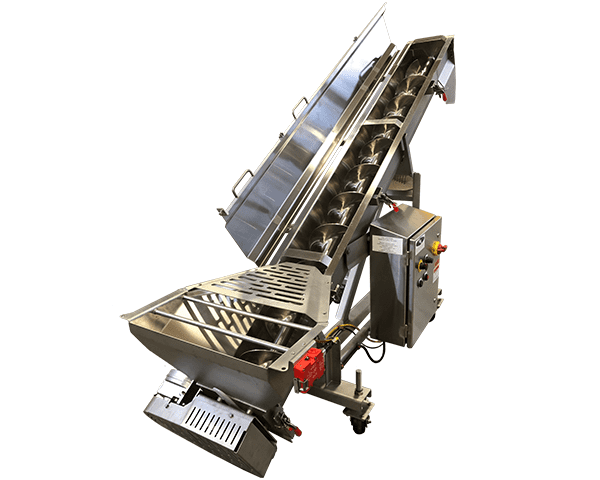 Overview
Revolutionize Your Material Handling
Unleash the power of our stainless-steel screw conveyors! Precision-engineered for flawless hygiene, they conquer any distance or incline, tailored to your exact specs. Count on us for seamless solutions that deliver your materials and ingredients precisely where you want them, every time. Your production needs, met with confidence!
Features
CHL designs and manufactures screw conveyors for all types of product movement. Configurable to your specifications.
Power is based on materials and incline
Configurable infeed and discharge
Screw type: mixer, shaftless, paddle etc.
Screw speed: configurable
Loading capacity: 30A% 151 CFH (cubic feet per hour)
Incline angle: up to 45 degrees
Pivot: optional power pivot
Tubular or shrouded trough, optional
Types
Horizontal screw conveyors:

The most basic type of screw conveyor, typically used for short distances or to move materials from one point to another.

Inclined screw conveyors:

Designed to move materials up or down an incline. Often used in conjunction with horizontal screw conveyors or filling stations to distribute ingredients.

Vertical screw conveyors:

Typically utilized for moving ingredients vertically to different levels of the production floor, mixing or moving proteins from grinders to packaging machines.

Shaftless screw conveyors: Ideal for delicate materials, these screw conveyors do not have a central shaft. This makes them ideal for handling materials that are prone to jamming.