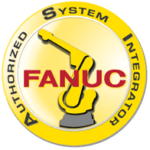 Souderton, PA – CHL Systems is pleased to announce we are now an Authorized System Integrator (ASI) for FANUC America.
FANUC is the global leader in automation for manufacturing. Their innovative robotic solutions are world renowned and offer superior performance.
As a leading manufacturer and integrator for the past 60+ years, CHL Systems provides a unique level of expertise for primary and secondary material handling solutions for general foods, meat, poultry, baking, confectionery, pharmaceuticals, and chemicals.
CHL Systems now becomes part of the FANUC Authorized System Integrator (ASI) Network for automation systems. The combination of reliable and intelligent robots, process expertise, and support services, will allow CHL Systems to offer its customers a seamless level of automation to their production lines. End users will see an increase in productivity, reduction in costs, increased profits, and a safer workplace environment.
Both companies are excited about the possibilities this partnership provides.
"FANUC is pleased to welcome CHL Systems to our network of Authorized System Integrators and the level of experience and expertise they offer material handling customers.  It's a perfect combination of CHL Systems' expert system capabilities and FANUC's world-renowned robotic automation.  We're really looking forward to working together to provide productivity-enhancing solutions to a wide range of customers," Dick Motley, director, Authorized System Integrators, FANUC America.
"We look forward to collaborating with FANUC on future projects and leveraging their experience in the world of robotic automation. This new relationship further enhances the commitment we have to our core mission, which is to give life to intelligent ideas through superior engineering, effective technology, and highly skilled craftsmanship," Mike Giagnacova, Chief Operating Officer, CHL Systems.
About FANUC AMERICA:
FANUC America Corporation is a subsidiary of FANUC CORPORATION in Japan, and provides industry-leading robotics, CNC systems, and factory automation.  FANUC's innovative technologies and proven expertise help manufacturers in the Americas maximize productivity, reliability and profitability.
FANUC embraces a culture of "Service First" which means that customer service is our highest priority.  We are committed to supplying our customers with parts and support for the life of their FANUC products.
FANUC America is headquartered at 3900 W. Hamlin Road, Rochester Hills, MI 48309, and has facilities in:  Atlanta; Boston; Charlotte; Chicago; Cincinnati; Cleveland; Houston; Los Angeles; Minneapolis; Montreal; Pine Brook, NJ; Pontiac, MI; San Francisco; Seattle; Toronto; Buenos Aires, Argentina; Sao Paulo, and Manaus, Brazil; and Aguascalientes, Monterrey, and Queretaro, Mexico.  For more information, please call: 888-FANUC-US (888-326-8287) or visit our website: www.fanucamerica.com.  Also, connect with us on YouTube, Twitter, Facebook, Google+, LinkedIn and Instagram.
Contact
Cathy Powell, 248-377-7570
Public Relations & Communications Mgr.
About CHL SYSTEMS:
Established in 1957, CHL Systems provides process automation equipment and services for production facilities. Using extensive experience, developed from a multitude of industrial applications with unique production requirements, CHL Systems brings a practical and cost effective approach to integrating the most advanced technology and services to the world of production automation. As a customer driven organization, and an ISO 9001:2015 registered company, our first priority continues to be providing top quality products and services for every application.  For more more information, please call 215-723-7284 or visit us online at www.chlsystems.com. Also, connect with us on YouTube, LinkedIn and Facebook.
Contact
Jeff Bowman, 215-723-7284
Marketing Manager